When doing our research on farming garlic, we found a few resources that were very helpful in helping us get started. Ted Jordan Meredith's book 'The Complete Book Of Garlic' is the most complete resource on garlic varieties and cultivars. Ron England's book 'Growing Great Garlic' is also very helpful on explaining garlic history and helpful tips on growing Great Garlic.
Getting started
The fall of 2019 we planted our first crop that would eventually be for sale as Certified Organic seed garlic and culinary use. We planted 4060 cloves of ten cultivars from three different varieties: porcelain, rocambole and marble purple stripe. As well, to achieve our goal of growing all our seed stock from bulbils on an ongoing basis, we planted lots of bulbils from 12 different cultivars.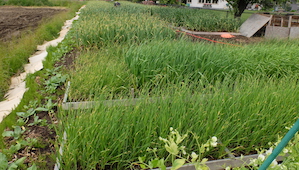 Fast forward to our 2020 Harvest. Harvest went well. Considering some of the challenges we faced, with a relatively dry spring and then a late rainfall just before harvest, we were really excited with the results. After three weeks of hanging to cure, cleaning, grading and sizing, we were left with 3586 bulbs of which 67% sized out to be large, extra large and jumbo. We also harvested approximately 12,000 rounds from the bulbils planted. We did not sell any of the inventory this year, instead choosing to use it all as seed stock for the following year except for our own consumption.
2020 Planting: What we learned last year.
We learned that last year, when we built the test strip, we tilled, laid down wood chips and then spread a 4" layer of compost over the whole area before building the 4" high raised beds out of compost. We did end up doing quite a bit of weeding on the walking paths but hardly any in the beds themselves. We did notice that on our working landing area, where we have the compost dumped, there were no weeds growing through the wood chips wherever we had not spread compost. So this year, before building the beds, after the wood chips were spread we built the rows of compost 7" high right on top of the wood chips. We also added wood chips to the walking paths in the test strip to suppress the weeds.
This year we added a few more cultivars and will be growing:
Porcelain:
• Majestic
• Georgian Fire
• Music
• Susan Delafield
• Portugal Azures
• Georgian Crystal
Rocambole:
• German Red
• Spanish Roja
Uncategorized:
• Tibetan
Marble Purple Stripe:
• Red Russian
• Kostyn's Red
• Crème De La Rasa
• Estonian Red
Our conclusions
In 2019, we planted all the cloves we got from our seed garlic bulbs which were about 90% medium sized bulbs as our purpose was to multiply our seed stock base. What we did not do is identify which cloves were small, medium or large. We thought that…well I am not sure what we thought! So this year, we identified all the cloves planted by the bulb size they came from. We know that by-in-large most bulbs have cloves that identify with the bulb size. For example, large bulbs = large cloves and small bulbs = small cloves. Of course, there are some exceptions. Because we had harvested a very high percentage of large to jumbo size bulbs from cloves planted from medium size bulbs in our first year, we wanted to identify if that was an anomaly or maybe it was because of the certified organic compost from Net Zero we are using. Stay tuned we will post the results after the 2021 Harvest.